My hips are probably my weakest area (part of why I have had stress fractures in each one) so I try to work them as often as possible – especially when I'm running a lot!! This week I really focused on them.
Sunday 7/20 – 44 skater squats with band.
This was fun – staying in the squat position the entire time made for a nice quad burn besides working my hips!!!
I got in a good 10 mile run – 76:27 followed by 3.15 easy miles!!!
Monday 7/21 – 44 machine gun kicks.
I should have done a video so you could see that this is actually a quick move. Part of the challenge is keeping balanced!!! And, after the first set – gotta work the other side!!
And – finally a lifting day again!!! Chalean Extreme – Push Circuit 1. I wanted to get some cardio but not run so I did Les Mills Combat Power Kata 45 – super fun way to get in a great workout!!!
Tuesday 7/22 – 44 kneeling leg lifts.
After the first leg is burning then switch and repeat!
Another 10 miles this time a bit faster – 74:44 followed by an easy mile!!!
Wednesday 7/23 – 44 side lying leg lift — point and flex feet.
By turning the foot, I felt this in all parts of my hip!!!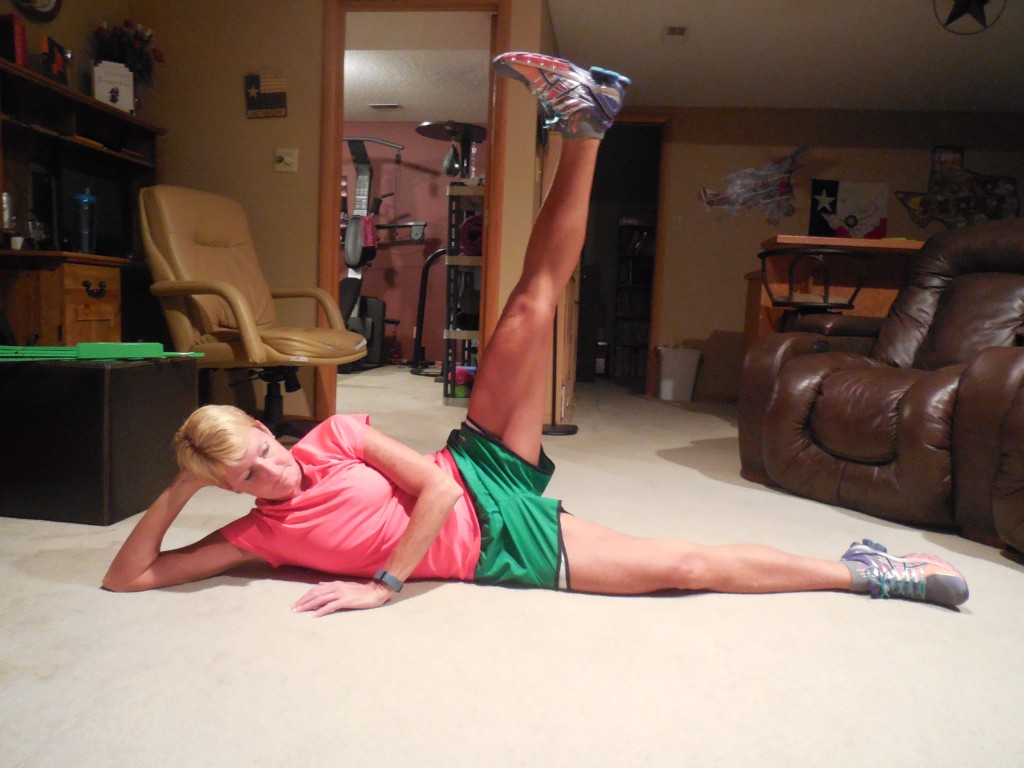 Lifting day – Chalean Extreme — Push Circuit 2. After lifting I pulled out a program I haven't done in awhile – TaeBo Amped – Rockin' Abs. This is just over 40 minutes of cardio/core – awesome!!!
Thursday 7/24 – 44 standing hip circles (knee bent).
This was a nice move – not something I do often but I felt it after just a few reps!!
(for the record the pictures weren't taken until Thursday afternoon after a full day of garage sale prep:)
Another run day – 7 miles at a pretty quick pace – 47:40 followed by 4.2 easy miles.
Friday 7/25 – 44 standing leg circles.
I actually did these during a lull in the garage sale and had Jordan do the video later. And, the video only shows one leg but I did both!!
Even though I didn't do any other workout I still had plenty of activity working the sale all day!!!
Saturday 7/26 – 44 walking plie squats.
I did 44 leading with my right leg and then another set of 44 with my left leg leading.
Slow start to the garage sale this morning – hopefully it will pick up and we can get rid of the rest of the junk/stuff!!
Happy Saturday!
Kim